According to some reports there are about 1.9M twitter users in Pakistan. This was mentioned by someone in #SOCMM12 but there doesn't seem to be any source of this information.
I had been collecting twitter data for quite some time. Sample data contains more than 100K Pakistani twitter users crawled using twitter API. Only public profiles who have mentioned Pakistan or some pakistani city name in their profile were considered for this analysis. This data contains almost all active tweeple of Pakistan.
Here are the results of data analysis:
Geological location:
About half of Pakistani tweeps live in major cities like Karachi, Lahore and Islamabad/Rawalpindi.
24.5% in Punjab (just 64.4% of them in Lahore, rest in other cities of punjab)
21.6% in Sindh (with 92.6% of them in Karachi)
10.0% in Islamabad
2.6% in

KPK

(with 58.7% of them in Peshawar)
0.96% in Balochistan
0.45% in Azad Kashmir
Gender:
gender.c, with custom names database of more than 5,000 names, was used on first names in twitter profiles: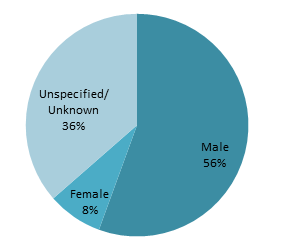 Names (first name):
Most common male names:
Syed
Ali
Abdul
Usman
Imran
Bilal
Hassan
Waqas
Mohammad
M
salman
Most common female names:
Ayesha
sana
Fatima
Amna
Noor
Sara
Hina
Sarah
Maryam
Rabia
Hira
Sidra
Verified Twitter Accounts:
There are only 6 of them:
Who has the most followers in Pakistan?
As you can see from the results, follower count is no longer an influence measure. Our politicians and media person are running after the follower count. To achieve this, they hire services which artificially increase the follower count using some techniques or bogus accounts. By looking at the followers list of any famous politician, you'll realize that many of the followers are with default dp, no follower, very few baseless statuses and a few tweeple following. I am trying to make a list with klout score of tweeps. This list will be published soon.
Here is a list of top Pakistani tweeple according to their follower count:
Note: The follower count may have increased or decreased by the time you're reading this. Note2: If you feel that I have missed any person, please feel free to comment and I will update the list.
When Pakistanis joined twitter?
Only 7 account were registered in 2006:
And then:
In 2007, 324 accounts were registered
In 2008, 1294 accounts were registered
In 2009, 13677 accounts were registered
In 2010, 24035 accounts were registered
In 2011, 31659 accounts were registered
In 2012, 34908 accounts were registered
Who tweets a lot?
Although this information is not important, just sharing it for fun. Most of the accounts in this list are bots. Skipping the bots and sharing the real persons only :-)
Update: See [Part-II]