There are around 36k .pk domains. Almost half of these are .com.pk domains and about 33% are .pk domains. Here is the graph: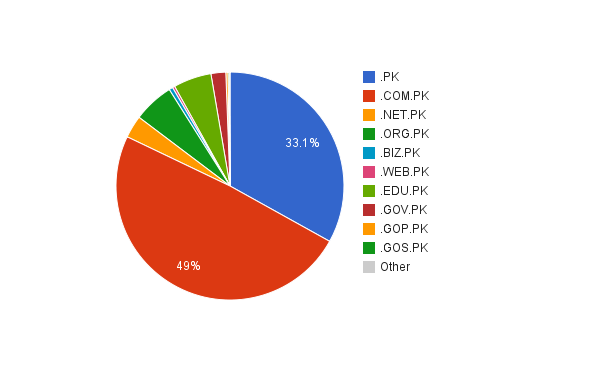 There are 2103 .ORG.PK, 1966 .EDU.PK, 1163 .NET.PK domains.
Government of Pakistan has 766, Govt. of Punjab has 121, Govt. of Sindh has 68, Govt. of Kashmir has 14, Govt. of Baluchistan has 8 and Govt. of KPK has 5 domains registered.
There are some domains like .BIZ.PK=196, .WEB.PK=121 and .FAM.PK=12
PKNIC started registering its first domains with brain.com.pk in 1996. Since then domain registration has increased each year.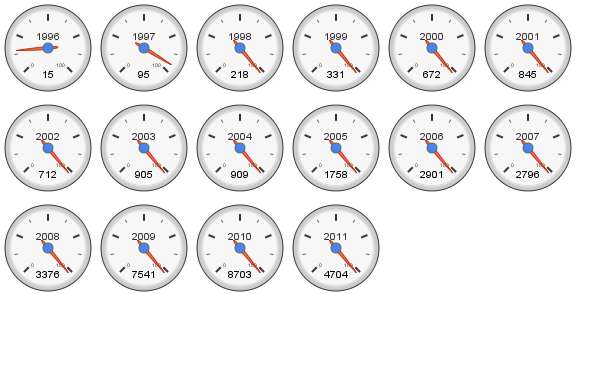 Here is the list of top 20 .PK domain registrars:
Nexus Technologies
2126
Websouls
1130

COMSATS

Internet Services
1086
Brain Telecommunication Ltd.
939
Cyber Internet Services(Pvt)Lt
892
MarkMonitor
880
PakHost Web Services
776

CSC

Corporate Domains, Inc.
773
Melbourne

IT

CBS

AB

745
Ascio Technologies
554
ServerSea Hosting (Pvt.) Ltd.
474
computer Xperts
465
creativeON
452
Inspedium Corporation
388
300 Seconds Instant Hosting
379
Micronet BroadBand Ltd
373
Webtechnos.net
371
Instra Corporation Pty Ltd
363

WEBCC

342
Rustam Technologies
339
Top 20 dns servers:
hostingmadeeasy.com
1581
websitewelcome.com
1053
comsats.net.pk
1013

CYBER

.

NET

.

PK

931
brains.net
883
domaincontrol.com
779
sedoparking.com
600
creativeon.net
472
futuresouls.com
472
hostingcare.net
467
websouls.com
430
hndservers.net
414
cscdns.net
412
b2bhosting.net
406
ixwebhosting.com
394
bluehost.com
382
saifkhan.net
339
inspediumcorp.com
320
pakhost.com
319
hostgator.com
313
There are some very interesting domain hosted by sedoparking like: airlines.com.pk, cars.com.pk, hotel.com.pk, insurance.com.pk, mail.com.pk
74 domains like (foodsolutions.com.pk, campaignforrealbeauty.com.pk, blueband.pk, breeze.pk, brookebond.pk, clear.pk, clinic.pk, close-up.pk) have their name servers on unilever.com
Nestle has 29 domains like: kitkat.pk, maggi.pk, milo.pk, nescafe.pk, nesquik.pk, nestea.pk, nestle.pk
Intel has 22 domains like: intelcore.com.pk, intelcore.pk, intelatom.com.pk, centrino.pk
There are 72 domains hosted on mediatemple, 18 on linode, 16 on google apps, 12 on slicehost and 11 on wordpress.
71 domains are hosted on neseeb.com networks: e.g. rozee.com.pk, mycv.pk, resume.pk, rozee.pk, akhbar.pk
Microsoft has registered 69 .pk domains like: microsoft.biz.pk, xbox.web.pk, msn.net.pk, windowsxp.org.pk, hotmail.com.pk, virtualearth.com.pk
Google has 32 domains register on pknic registry like: adwords.com.pk, blogger.com.pk, orkut.com.pk, googlemail.com.pk, frogle.com.pk, frooogle.com.pk, googlesms.com.pk
Wi-Tribe has 30 domain just for minor spell mistakes. Here is the list:

tribe.biz.pk
tribe.com.pk
tribe.net.pk
whytribe.biz.pk
whytribe.com.pk
whytribe.net.pk
wi-tribe.biz.pk
wi-tribe.com.pk
wi-tribe.net.pk
wi-tribe.org.pk
wimaxtribe.biz.pk
wimaxtribe.com.pk
witribe.biz.pk
witribe.com.pk
witribe.net.pk
witribe.org.pk
wtribe.biz.pk
ytribe.com.pk
ytribe.net.pk
tribe.pk
whytribe.pk
wi-tribe.pk
wimaxtribe.pk
witribe.pk
ytribe.pk
tribe.org.pk
ytribe.biz.pk
ytribe.org.pk
wimax.net.pk
wimax.org.pk